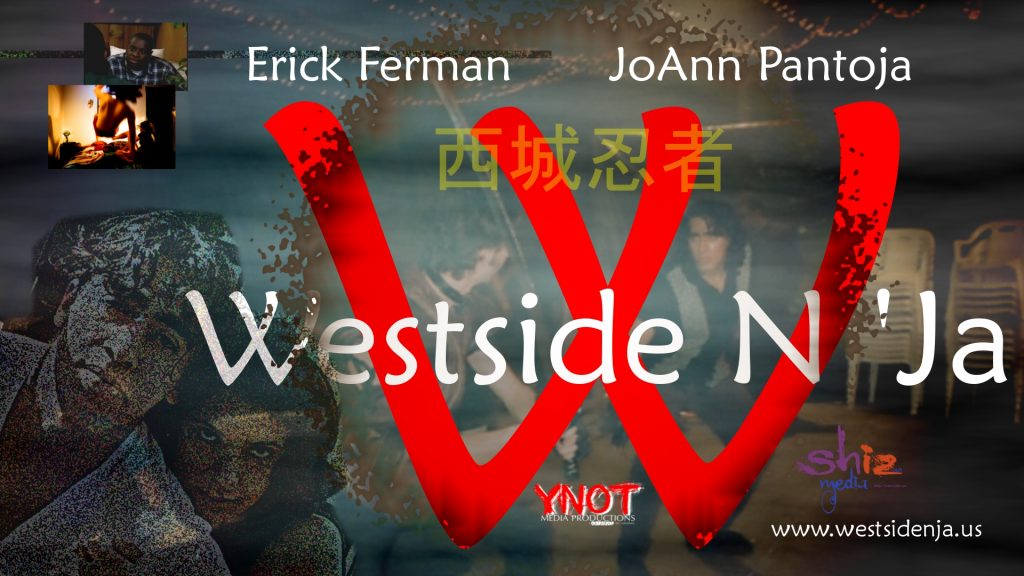 http://www.westsidenja.com/ — Westside N 'Ja — "A student learns about a gang/cult led by the Dean of Students at Long Beach University via a video of a torture murder caught on tape. The fight begins when they kidnap his girlfriend." This film was independently shot between 1996-1997 and post-produced in 2013 & 2014.
Official Website: http://www.westsidenja.com/
Double Shot Sequel: http://www.dshot.biz/
Download the movie in 5.1 surround sound: https://1drv.ms/f/s!As6u3HclN4chgokx0b1VEyZFdApsrw
Facebook: https://www.facebook.com/westsidenja
Twitter: https://twitter.com/westsidenja
Google+: https://plus.google.com/103224371265759605485
See uncut videos and more: http://seae.us/27XE3M
NOTE: This video does not contain any nudity, but does contain suggestive images of sexuality. Viewer discretion is advised.
YouTube released on Veteran's Day, November 11, 2013.
Revamped August 22-25, 2014 and again on September 04, 2014.
The credits are also embedded in the video itself in the end at 45:53
an Antonio TwizShiz Edward film
a Shiz Media production http://shizmedia.net/
under YNOT Media Productions
Cast
Manuel
Erick Ferman
Melanie
Jo-Ann Pantoja
Dean Matthew Dean
Bob Spears
James
Jason Ray
Bill
Nate Kincy
Swordsman
Brian Kraft
Sothira 'Chief' Chhiv
Red
Albert Santos
Craze
Derrick Franklin
Public Relations
Ericka Lewis
Janitor Bob
Mark Nobel
Tortured Guy
Jason Cochran
Sword Handler
Jennifer Lawrence
Torturer and Ninja Fighter
M. Basso
Crew
Written by
Antonio TwizShiz Edward
Co-writters
Tony Smalls
Erick Ferman
Associate Producers
Erick Ferman
Nate Kincy
Tony Smalls
Producers
Jules Christian
Derrick Franklin
Jason Ray
Albert Santos
Eri Hihara
Jo-Ann Pantoja
Judy Hudley
Joe Rubio
Azriela Bat Levi Yisreal 'Chante Holsey'
Stacey Carraway
Stunt Coordinator and Fight Choreographer
Erick Ferman
Sword Choreographer
Brian Kraft
Stuntman
Sothira 'Chief' Chhiv
Timecode and Script Supervisor
Mari Takano
Production Assistant
Judi Hudley
Jennifer Lawrence
Dungeon Scene Master
James Ross Kelley
Apartment Provided By
Kenya Reed
House Provided By
Jo-Ann Pantoja
Transportation
Erick Ferman
Albert Santos
Jules Christian
Tony Smalls
Camera
Tromaine Dion 'Asar' Ellis
Warren Welch
Derrick Franklin
Mari Takano
Tony Smalls
Antonio TwizShiz Edward
Explosion Matter
Justice Matte
https://www.youtube.com/justice54324
Music Supervisor
Serenity Alyanna Edward
Antonio TwizShiz Edward
Battle (End)
BoxCat Games
Nameless: the Hackers RPG Soundtrack
2013
http://boxcat.bandcamp.com
Brokenhearted
Dramatic Soundscapes Volume 11
Mike Newport, APRA
2011
Publisher: Freeplaymusic, BMI
About her
featuring TheDICE, dripm anila
copperhead
http://creativecommons.org/license/by-nc/3.0/
Verify at http://ccmixter.org/files/copperhead/43936 ccMixter
Winter Apocalypse/Brendan Izzard
Death Metal
https://soundcloud.com/bare-knuckle-pickups
Yiourgh
featuring Coblat
DoKashiteru
2009 DoKashiteru Licensed to the public under
http://creativecommons.org/licenses/sampling+/1.0
Verify at http://ccmixter.org/files/DoKashiteru/21394
ccMixter
2009
Crosstalk (Take 3)
Featuring NiGiD
Javolenus
2013 Javolenus Licensed to the public under
http://creativecommons.org/files/Javolenus/41845
ccMixter
2013
Below
featuring Lisa Debenedictis
frozen in time mix
hisboyelroy
ccmixter::magnatune remix
2005 hisboyelroy Licensed to the public under
http://creativecommons.org/licenses/by-nc-sa/2.0/
verify at http://ccmixter.org/file/hisboyelroy/6
2006
Minimum Immigration 5 (Full version)
Evil Intentions Volume 12
Patrick Slattery, BMI
Freeplay Music
2013
Freeplaymusic, BMI
Never Heard a Rhyme Like This Before
scottaltham
2009 scottaltham Licensed to the public under
http://creativecommons.org/licenses/by/2.5/
Verify at http://ccmixter.org/files/scottaltham/18619
ccMixter
2009
Spa Music
vissequ
Connor Fabiano
New Age
https://soundcloud.com/vissequ
Without A Fight (Full version)
Action Orchestral Volume 1
David Bateman, ASCAP
Freeplay Music
2013
Freeplaynjj, ASCAP
Video Copilot ProScores
Licensed Music
https://www.videocopilot.net/products/proscores/
Sound Effects
PacDV.com
SoundJay.com
SoundBible.com
DuesX.com
SoundDogs.com
freeSFX.co.uk
VideoCopilot.net
Executive Producer, Director
Movie Editor, Audio Engineer
Antonio TwizShiz Edward
Copyright 1993-2014
YNOT Media Productions, Inc.
and Shiz Media
a subsidiary of SereAnt, Inc.
All Rights Reserved
http://www.westsidenja.us/
http://www.westsidenja.com/
http://www.westsideninja.com/
westside ninja
Stay tuned for web series DOUBLE SHOT, the sequel to this movie:
Website: http://dshot.biz/
YouTube Channel: https://www.youtube.com/doubleshotbiz
iTunes: https://itunes.apple.com/us/podcast/ds/id755191922
Facebook: https://www.facebook.com/doubleshotbiz
Google+: https://plus.google.com/+DshotBizSeries
Twitter: https://twitter.com/doubleshotbiz
Hits: 7968